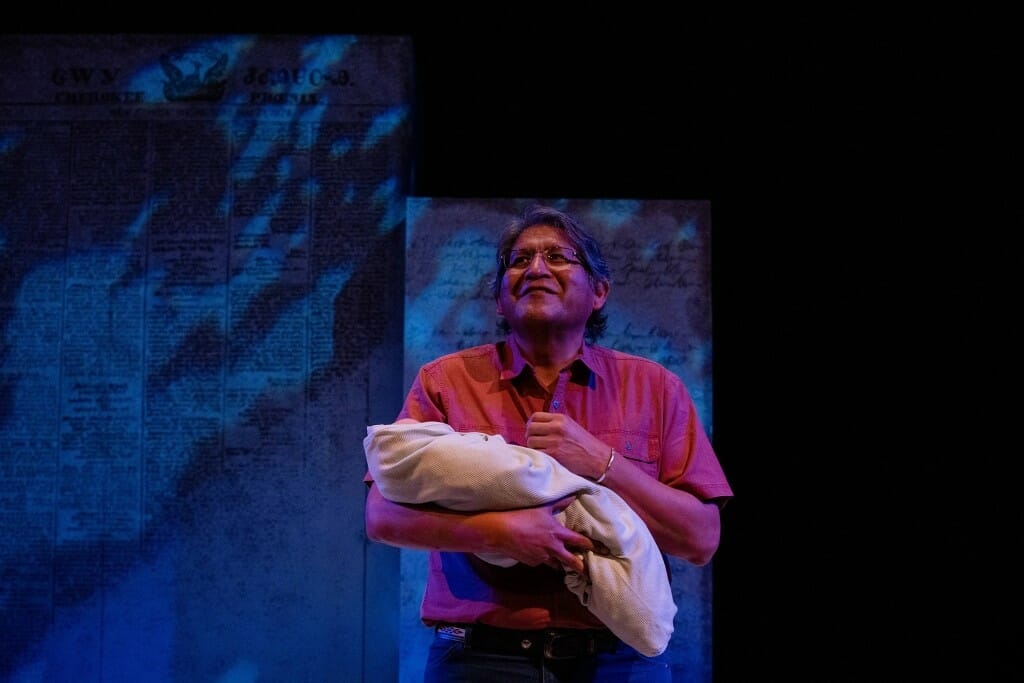 Coinciding with the passage of landmark House Bill 1725 creating the first alert system for missing or murdered Indigenous women and people in Washington State, Harlequin Productions presents Sovereignty by Mary Kathryn Nagle, May 6 – May 28 at the State Theater. Esther Almazán (Yaqui/Yoeme Tribe) will direct.

Sarah Ridge Polson, a young Cherokee lawyer, fights to restore her Nation's tribal jurisdiction while confronting the ever-present ghosts of her grandfathers. Stretching from 1830s Cherokee Nation (now present-day Georgia) through Andrew Jackson's Oval office, along the fateful Trail of Tears, to the Cherokee Nation in present-day Oklahoma – Sovereignty tells an epic tale of the powerful intersections of personal and political truths, bridging our country's distant past and imminent future.

Featuring direction, set, costume and lighting design by Native artists as well as five Native actors, Sovereignty is a continuation of Harlequin's commitment to rethink and reframe, not only which stories are seen on its stage, but who is presenting those stories to audiences.

In her director's notes on the production, director Esther Almazán, who is from Tucson, writes:
"My own Sonoran Desert home has its Saguaro sentinels guiding me back home, along with the promise of the soothing scent of the creosote bush. What then, was it like for the Cherokee to be tricked by treaties from the place they called home, moved by violence from their ancestral lands? How many sacred structures did they leave behind?
…I dedicate my work at Harlequin Productions to the brothers and sisters who were forced to walk that long trail, leaving behind everything that meant home and losing thousands of loved ones along the way. I honor the Steh-Chass people on whose ancestral land we stand to tell this tale and ask their blessings for our efforts."
Native rights lawyer and playwright Mary Kathryn Nagle, a citizen of the Cherokee Nation of Oklahoma, has written a dense script full of historical context. Of particular focus is the signing of the Treaty of New Echota (which became the legal basis for the forcible removal of the Cherokee known as the Trail of Tears) by Major Ridge and his son John Ridge, and the reverberations of that decision for the Ridge family today. The play moves constantly between the 1830s and the present; double-casting actors in roles in both time periods further highlights how strongly the past continues to shape those in the present day.
In a 2021 New Yorker profile and interview of Ms. Nagle, she says that one piece of her mission as a playwright is to humanize Native people, making it more difficult to stereotype and discriminate against them. As she told profiler Daniel Pollack-Pelzner, "Most people have never seen an authentic Native person portrayed onstage. The more we become humans that non-Natives have to interact with, the more difficult it becomes to justify a legal narrative that dehumanizes us."
May 6 – May 28, 2022

location: State Theater, 202 4th Ave East, Olympia, WA 98501

Tickets are available online at harlequinproductions.org, by phone at 360.786.0151