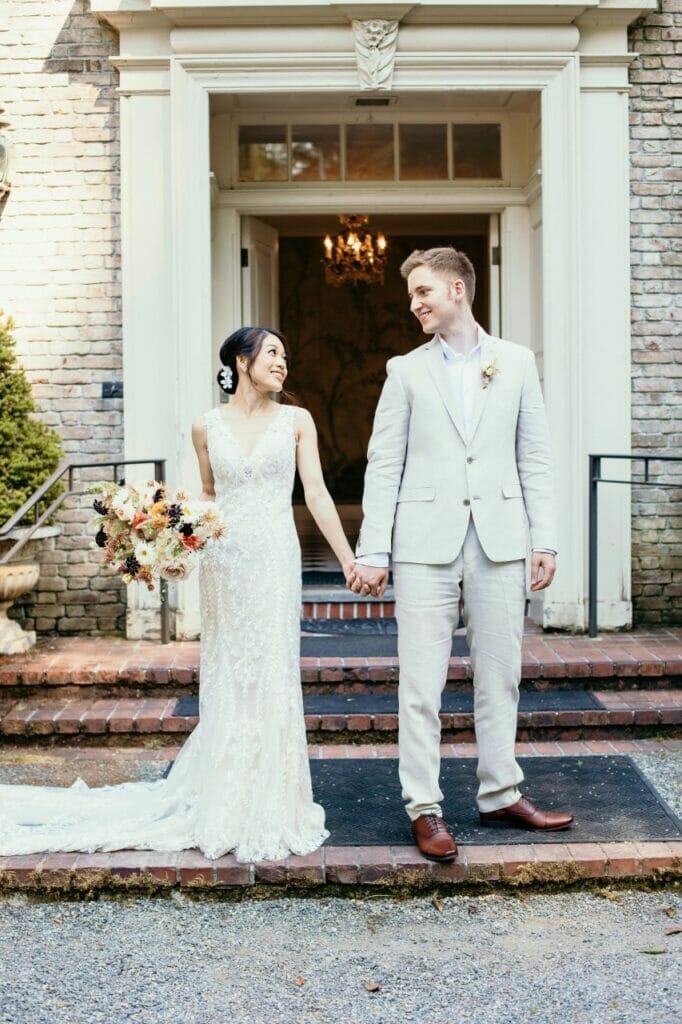 When engaged couple Jade and Alex were looking for a venuefor their July 2021 wedding, Jadealreadyhad aconceptbased ona weddingsheonceattended at a private estate in Italy.
"I had a very clear vision of what I wanted, while Alex was more flexible," said Jade recently. "When we visited Lakewold Gardens, we both knew it was the venue we wanted to use."
Lakewold Gardens is a unique historic estate in the city of Lakewood on the shores of Gravelly Lake. The ten-acre grounds feature several gorgeous backdrop locations to select from for the ceremony including a gazebo, quatrefoil pool, a brick walkway, natural ponds, as well as formal and woodland plantings.The highlight of the property is a Georgian-style mansion with a stunning spiral staircase, intimaterooms, and a wisteria-covered veranda for receptions.
In addition to offering an unforgettable and intimate setting, Lakewold Gardens provides a listing of caterers, officiates, and other wedding professionals who are familiar with Lakewold Gardens. This go-to list will ensure your planning goes smoothly.
According to Reverend Eric Warn, "I have officiated at a number of gorgeous wedding venues and one of my favorites is Lakewold Gardens. It is a stunning location that offers a park-like setting with manicured gardens, expansive lawns, and beautiful foliage."
Lakewold Gardens provides intentional encounters with the life-changing power of nature, fostering peace, creativity, and healing in our communities. The vision of this nonprofit organization is to create a world where people flourish in harmony with nature.
Lakewold Garden's event rental fees include exclusive use of the estate and gardens to accommodate a party of 80 attendees, private party dressing rooms, a pre-wedding day photo session, access for a dress rehearsal, plus tables and chairs." Alex and I are truly grateful to Patty and the staff at Lakewold Gardens for a perfect wedding," added Jade. For additional wedding information, check out Lakewold Gardens website at lakewoldgardens.org. Or to set up a complimentary walk-through with an event coordinator, call 253.584.4106 or email: rentals@lakewoldgardens.org.