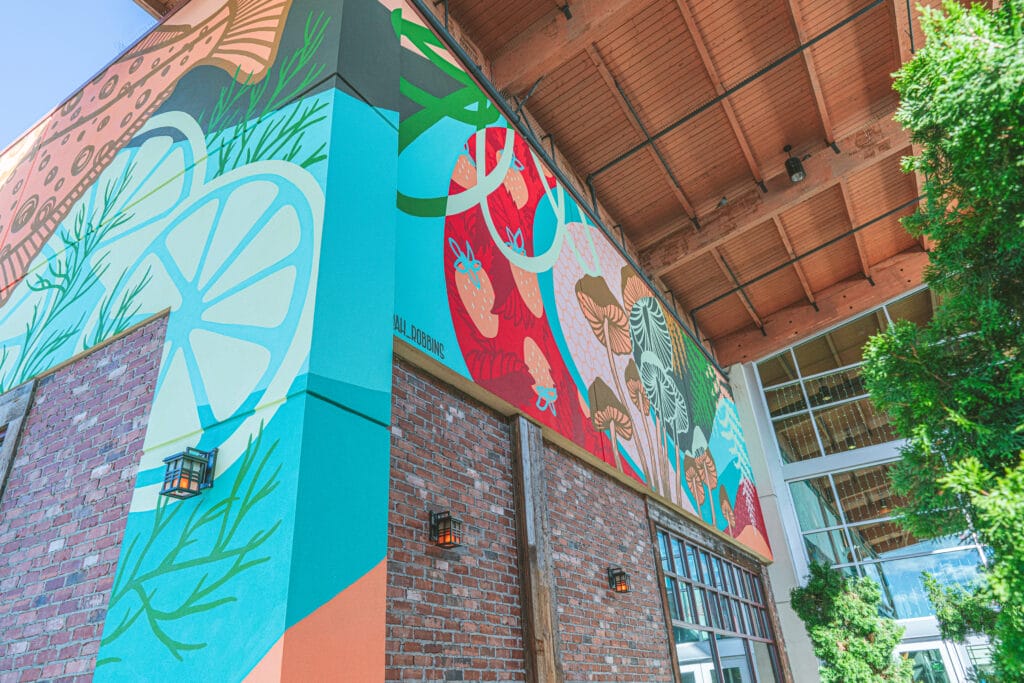 Capital Mall makes a big statement with the installation of a 1,400 square-foot outdoor mural between Century Theatres and Old Navy. Representing Capital Mall's commitment to the local community, this mural, appropriately titled "Water & Land," highlights the bountiful natural resources found in Thurston County. Specifically, the South-facing wall depicts ingredients found in water (oysters, halibut, salmon, kelp, etc.), and the East-facing wall depicts ingredients foraged from the land (strawberries, mushrooms, honey, etc.). This imagery is illustrated in loose, gestural graphics, patterns and overlays, with an organic, handmade "makers" feel. The colors are bold, bright and modern, yet refined to a limited color palette with slight vintage feel. The composition relies heavily on layering and interaction as the artist wanted to reflect its vibrant Pacific Northwest-theme.

Washington state native, Sarah Robbins, designed and painted the mural in early September. "Art has a huge role in a building community. I think there's ways that it can bring people together," explains Robbins about the project. With the launch of the center's LIVE LOC-OLY initiative, Capital Mall's goal is to highlight locally owned stores, showcase restaurants using locally sourced ingredients, and provide space for unique uses such as the recent grand opening of the newest branch of Timberland Regional Library. This community focused mural colorfully aligns with that vision.
"We are listening to our local community and their needs," explains Stefanie Cicerello, marketing and business development manager at Capital Mall. "We love providing shopping and dining opportunities to our community and constantly strive to make that experience enjoyable. One of the ways we can do this is to showcase local artists and take a holistic approach to our role in the community. This mural celebrates the agriculture and flavor profiles of Olympia and the surrounding area."
About the Artist:
Sarah Robbins is an illustrator, painter and designer living and working in Seattle, WA. As a Jill-of-all trades when it comes to art, she is not tied to any particular style or medium. She uses imagery, patterns, typography and color to create work, and strives to make something unique and custom for every project. Sarah prides herself on making classic pieces that can work on multiple levels straddling the line between specificity and ambiguity, often allowing room for people to interject their own thoughts and experiences into the work. Sarah believes it is important to create pieces that can amplify the voices and stories of others, not just her own.
For more information
Website: https://sarah-robbins.com
Instagram: @sarah_robbins
For more information about Capital Mall, visit our website at www.capitalmallolympia.com.