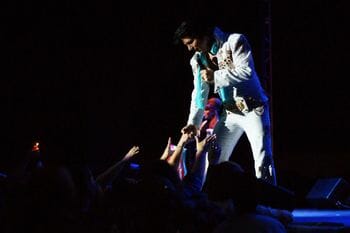 Call them what you will … Illusionist, Impersonator or Tribute Performer … many of us love hearing a great Elvis song that brings the King of Rock 'n Roll to life. If you are one of us, your chance to see an award-winning local Elvis performer is coming up Wednesday, December 22nd and Thursday, December 23rd at the Muckelshoot Casino in Auburn.
For more than three decades, Danny Vernon has been performing his Elvis show honed by listening and singing along to records purchased by his Dad. "Dad would buy the sound track soon after seeing the movies in the 60's," said Vernon. "I do those songs really well, so I enjoy performing them," he added.
Vernon is known for his high energy Elvis Tribute shows that focus on connecting with his audience while performing three distinct areas of Elvis' career. From Hillbilly cat of the 50's, to the sleek 60's movie years and then of course onto the sexy 70's jumpsuit era, each show highlights the voice, look and passion of the musical icon known as Elvis.
Vernon strives to celebrate Elvis not to pretend to be him. "I know people like the show to be as authentic as possible, so I try not to lose my own personality in it," he said recently.
Tickets for the 8 o'clock shows at the Muckelshoot can be secured by contacting the Muckelshoot via phone at (800) 804-4944 or on-line at https://muckelshootcasino.com/entertainment/elvis-danny-vernon
Don't miss your chance to celebrate the holidays in true Elvis style with Danny Vernon's Elvis Tribute shows.
For more general information about Danny Vernon and his performances around the Puget Sound, visit his website at https://www.dannyvernon.com/shows