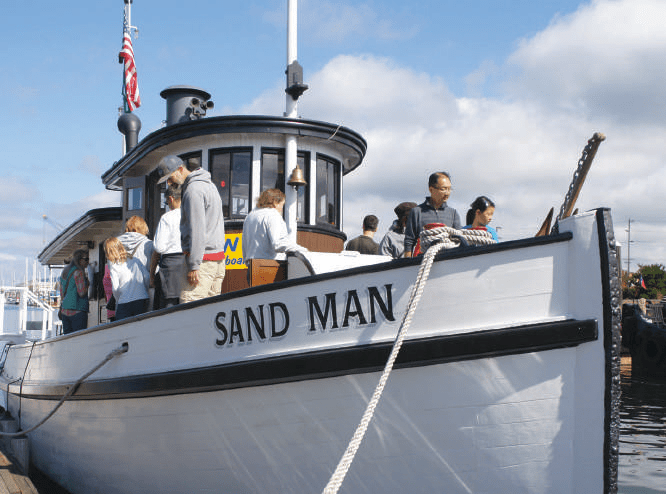 Olympia Harbor Days, a waterfront maritime festival, is expected to be a welcome opportunity to reconnect with friends, stroll the beautiful downtown waterfront, and have a whale of a good time. Mark your calendar for Labor Day Weekend, September 2 to 4. The South Sound Maritime Heritage Association invites you to celebrate the 49th year with festivities for the whole family. We have missed many gatherings over the past two years. Musicians, craft vendors, tugboats, kid's activities, and much more will vibrate with a joyful energy we have been longing to feel.
This year also marks the 100th anniversary of the Port of Olympia and the Steamer Virginia V. The ship is a National Historic Landmark undergoing renovations but is expected to sail proudly into Olympia for Harbor Days. The Lady Washington, which has also been undergoing restorations, will hopefully arrive as well.
Did you know that Olympia Harbor Days' tugboat races are a reminder of our past? At the turn of the century, tall ships sailed to Olympia to pick up exports like shellfish and wood. The ships required guidance to navigate into Budd Bay from Boston Harbor. This was accomplished with tugboats, who at that time did not have the luxury of ship-to-shore radio. When a tall ship was sighted, the steam engines were fired up and the tug captains raced out. "The first to arrive got the job!" explains Carol Riley, Olympia Harbor Days event producer. We get to relive the excitement.
Riley is working diligently to offer a fabulous array of vendors and activities. It's a weekend of art, celebration, history, and also marks the ending of the summer season. The festival, along with all participating vendors, will follow all rules for safety and health protocol and guidelines in place at the time of the event.
"I think it will be a fun time and a great time for people to reconnect," Riley says. Both residents and tourists are in for an energizing time. You won't want to miss a thing. "Think great weather," she advises. Rain during Olympia Harbor Days has been rare. Come to downtown Olympia, celebrate Olympia Harbor Days, and remember one of the many reasons you love the Pacific Northwest.
For Additional Information
Olympia Harbor Days
harbordays.com
MARY ELLEN PSALTIS