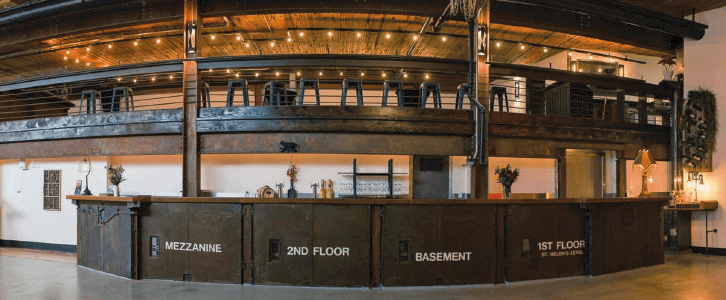 For nearly 13 years, Linda Dagley wanted to create, own, and operate an event venue. It would be a natural fit, after all, for a successful catering company like Jonz Catering, owned by her and husband Chef David Dagley since 2007.
According to David, "Whenever Linda would find an interesting space, I would typically tell her it just didn't pencil out financially. But then in 2019, she found this space and I was immediately ready to sign the lease."
The space that David is referring to is a wonderful historic building in Tacoma's Theater District on Opera Alley called The Press Room. From 1914 to 1971, the space housed the printing presses for the Tacoma Daily Ledger and the Tacoma News Tribune.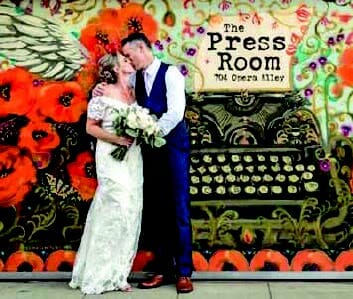 Now the space has been newly renovated using reclaimed items including a gorgeous 30-foot bar on the main floor made from the building's former cargo elevator doors. Multiple levels and unique small and large spaces give the rustic venue an eclectic, cool vibe not found in many spaces near or far from Tacoma.
There is a huge main floor with a floating wall that brings Opera Alley into the event space and an expansive mezzanine level that houses a second bar. Fun and funky antiques, posters and art fill the 7200 square feet of space that can accommodate seating for 200 guests or 300 in a cocktail-style event. Unique small spaces throughout the venue serve as VIP Bride and Groom areas, plus other conversation spaces.
One of those spaces is home to an original oversized photo of the Narrows Bridge in 1940 as it swayed in a windstorm before plunging into Puget Sound. Another spot at the bar features a book bound with all the newspapers printed during an entire quarter year.
History and rustic ambiance hit you as soon as you walk in. "Good feelings are everywhere in this space," said David.
Included in the newly climate-controlled venue's rental fee are tables and chairs complete with beautiful linens. A two-hour rehearsal during the week prior to your event is also incorporated into the fee.
For Additional Information
The Press Room
pressroomevents.com
LYNN CASTLE