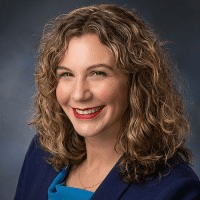 Following an extensive search, the Tacoma Pierce County Chamber of Commerce recently announced the hire of Andrea H. Reay as their new CEO & President. In mid-May, Reay replaced Tom Pierson who announced his retirement in October of last year.
Reay is a native of the Pacific Northwest and an experienced non-profit manager, business consultant and community organizer. Her first job was working at her family's business, a small independent pharmacy, aptly named "Family Pharmacy". She attended the University of Washington where she studied Theatre and Classics.
Following graduation, Reay worked for over 15 years in non-profit arts management. Then in 2013 she expanded her non-profit experience to work at Discover Burien, a non-profit organization focused on marketing and promoting the City of Burien. This led Reay to serve in her most recent role as the President/CEO at Seattle Southside Chamber of Commerce from 2016 to 2022.
When asked what attracted her to this new position Reay said, "Working within the economic development and community engagement sectors for over 9 years, I have always been so grateful for the collaboration, leadership and partnership the Tacoma-Pierce County Chamber has provided throughout the industry and for the business community in the Pacific Northwest." She added, "The opportunity to be part of that culture and history of excellence and to work with a team of professionals all dedicated to making the South Sound the most equitable and inclusive place for business in the State was an amazing opportunity I knew I couldn't pass up."
Reay looks forward to building on the past success of the Chamber. "The Chamber had a 5-year Strategic Plan that ended last year so a large part of the work I hope to focus on this year with the Board and Staff is a refresh of that past planning work."
She plans to review what has been accomplished and what still needs to be done.  This will include how the Chamber can connect and engage with the community and solicit broader feedback, while continuing to focus on small business support. A high priority will be devoted to equitable economic development through technical assistance and programs such as the BIPOC business accelerator.