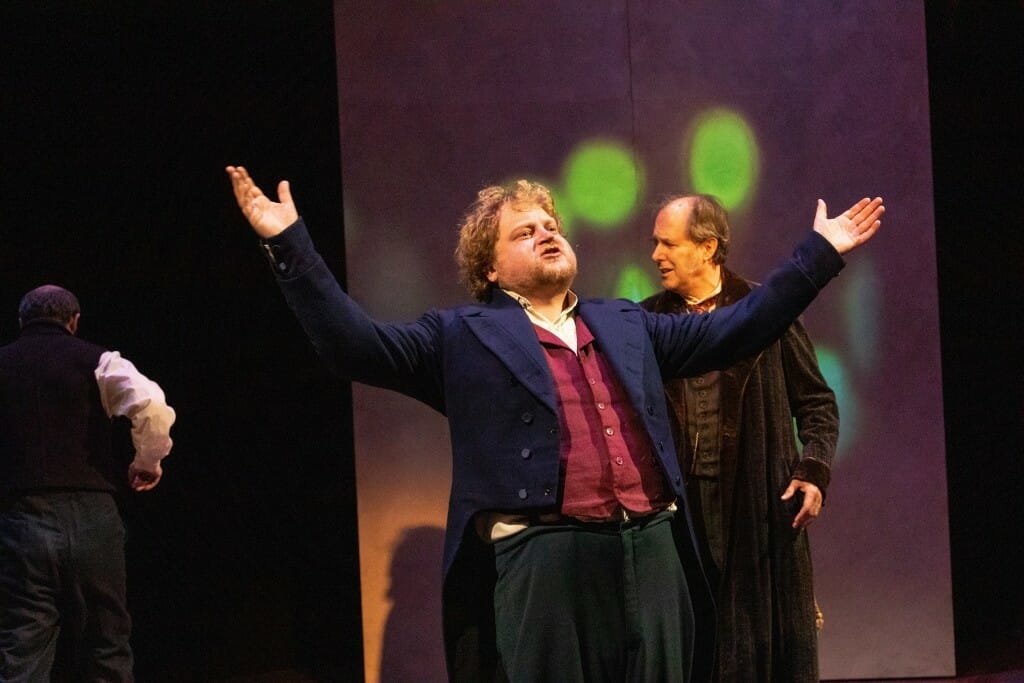 Harlequin Productions presents Producing Artistic Director Aaron Lamb's new adaptation of Charles Dickens' A Christmas Carol, November 26 – December 31 at the State Theater in downtown Olympia..
Hailed as the greatest ghost story ever told, we begin a new Holiday tradition at Harlequin with a fresh adaptation of Charles Dickens' classic story of transformation, absolution, and grace. Join us for a Holiday classic that's sure to please, with a healthy dose of cheer and the kind of ghostly special effects that only Harlequin can deliver.
Delayed by the COVID pandemic shutdown, this production marks the beginning of a new tradition of Holiday shows at Harlequin. Beginning in 1994, almost every Harlequin season began with a new addition to the Stardust canon, a series of original musicals featuring classic tunes from the 1940s to 1950s. They were a unique and beloved part of the South Sound Holiday season. In 2019, Harlequin began the transition to A Christmas Carol with Sherlock Holmes and the Case of the Christmas Carol, which was well received by the community. With the premiere of Mr. Lamb's adaptation, the new tradition has finally begun!
What can audiences expect from this new adaptation? Says Lamb, "The great majority of the text is directly from the page. We're as close to the Dickens original as we can be…with a couple of major changes. My adaptation is a collage of all my favorite parts of other productions and versions of A Christmas Carol that I'm familiar with, with some of my own choices."
Why A Christmas Carol, a play done by so many theaters during the Holidays? To answer, Mr. Lamb speaks to his acting career: "As a professional actor, I did a Holiday show every year for 12 years, and most of those (the best ones) were some version of A Christmas Carol. Some of my own best theater experiences are with this show. One year, I did a bus and truck tour of A Christmas Carol through the Midwest. It was a snowy, stormy year. We'd sleep on the bus, get off, do a show, get on the bus again…it was horrible. I should have been miserable. But I was having a great time, because I was playing Fred, the most positive character in A Christmas Carol, and every day the play ended at Fred's level of positivity and good cheer."Mr. Lamb continues, "A Christmas Carol has all the best elements of live theatre. The different things we can do with the same story are limitless. The ghost story lets us as a theater company flex our technical muscles and pull out the stops where we excel. The redemption story gives the actors the purest character arc in all of theater. So you may have seen it before, but I promise you've never seen this one. We will surprise you!"