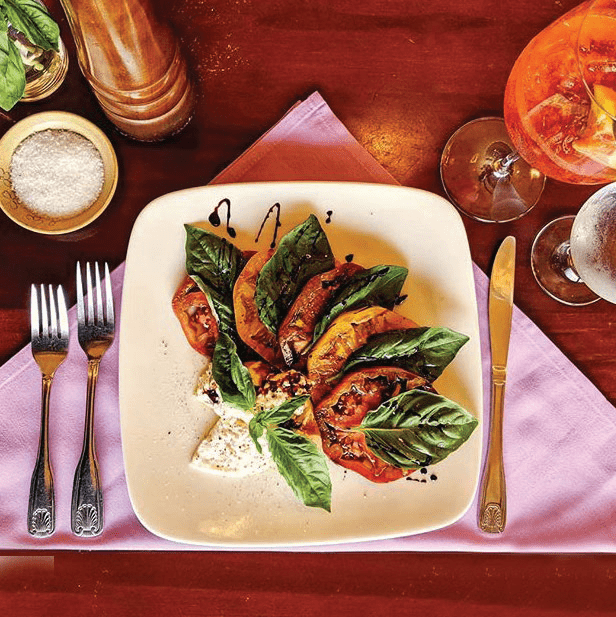 Growing up in the Umbria region of central Northern Italy, Giampaolo Falchetti was exposed to wonderful handmade pastas, ravioli and slow-cooked sauces covering braised meats. His childhood memories and teachings in wine and food are the hallmark of the seasonal menus he creates for downtown Olympia's Basilico Ristorante Italiano.
"At Basilico, we work to create a menu and an experience that is as close as we can get to what Giampaolo grew up eating in Umbria," said his wife and partner in the restaurant, Kathryn Philbrook.
The couple met in 2002 in Dublin, Ireland of all places — an American and an Italian — when he was traveling to polish up his English and she was working in a hostel. After a few years of a long-distance
relationship, the pair married in 2005 and lived in Italy. Life brought them to Kathryn's home in Washington State in 2006.
As a certified sommelier in Italy, Giampaolo draws on his training to pair wines from the restaurant's extensive wine cellar with your meal. "I warn you though, if you ask Giampaolo about Italian wines, be prepared for a 30-minute conversation," said Kathryn with a quick-witted laugh.
His love of wine and food has deep roots. Back in Umbria, Italy, Giampaolo's family owns a working farm with a bed and breakfast that creates wines and olive oil. These days, Giampaolo focuses on making his seasonal menu reflect his heritage. Braised meats on the menu may include wild boar, quail, and venison.
The Fall/Winter menu at Basilico showcases dishes with local mushrooms as their focal point. Try the Funghi al Marsala appetizer, which is a variety of wild and cultivated mushrooms sauteed with garlic, Marsala wine and cream served with homemade crostini. Entrees like 'Ncasciata di Melanzane, a layered, baked rigatoni pasta tossed with beef and lamb ragu, fried eggplant, with three cheeses — mozzarella,
provolone bechamel and Parmigiano — are sure to become a family favorite when you visit.
Basilico Restaurant
507 Capitol Way South in Olympia
Reservations: 360.570.8777
or basilicooly@gmail.com
BY LYNN CASTLE