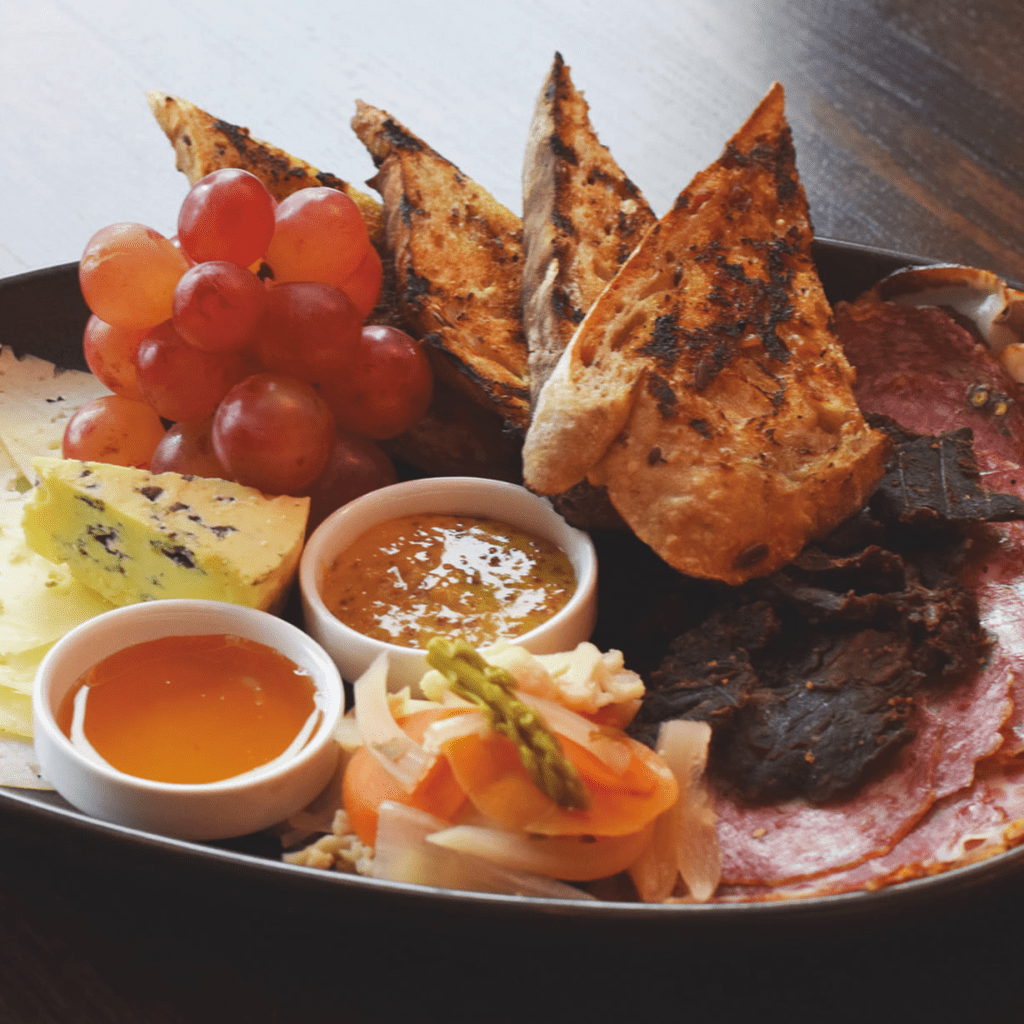 Find harmony of body, mind, and spirit when you sit down for a meal at Cynara Restaurant and Lounge. Check your stresses at the door and unwind. Olympia native Christian Skillings' second restaurant offers a Mediterranean flair with emphasis on the integrity of every ingredient you experience – from drinks to dessert and everything in between.
Take your time to peruse the list of handcrafted cocktails. The towering bar wall is well stocked with marvelous whiskeys, ryes, malts, gins and intriguing amari and aperitifs. Your server welcomes your questions. Be daring or order an old favorite. Old and new world wines are available by the glass or bottle.
While you are chatting over your libations, order a sharable appetizer such as the Cynara Toasts. Grilled rustic bread slices are topped with savory and/or sweet bits like chevre, grapes, basil, and pistachios. There are four varieties that can be ordered in any combination.
Dishes from Cynara's kitchen are made from scratch using many locally sourced ingredients, all selected with thought and care. For the serious meat lovers, Cynara uses Royal Ranch ribeyes and filet mignons where every bite is worth savoring. For a change of pace, choose the lively Moroccan lamb stew, which maintains its popularity. The plainly named cauliflower main dish is anything but. Nestled atop a lemony, basil quinoa salad, a roasted cauliflower head is layered with pomegranate balsamic, apricots, Aleppo toasted hazelnuts and honey. Tasting is believing.
Hopefully, you've paced yourself and made room for the chocolate marquise or the baklava crumble.
Cynara keeps its values in mind at all times. The bar is set high for service that is gracious, efficient, knowledgeable, and professional. Your time there is meant to exceed expectations. You might also appreciate that Cynara works to minimize its environmental footprint through recycling, composting and energy-efficient practices.
Share a table with your friends and loved ones for a time of rejuvenation and connection, something we all can use more of these days. Cynara is open for lunch and dinner and has space that can accommodate larger groups or a special event. It is located in downtown Olympia and easy walking distance to the Farmers Market.
Cynara Restaurant & Lounge
500 Columbia Street NW, Olympia
360.570.8777
cynaraolympia.com
BY MARY ELLEN PSALTIS