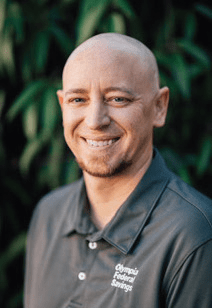 After more than 38 years with OlyFed, Lori Drummond will retire as the bank's President and CEO on June 30. Promoted from within, like most of the team at OlyFed, Drummond started her career as the bank's receptionist in 1984 and now leaves a remarkable legacy for the bank to continue to thrive as the go-to financial institution for local families and small businesses.
Named to succeed her as only the eighth President and CEO in the bank's 115-year history is Josh Deck. Like his predecessor, Deck was promoted from within after serving as EVP and Chief Operating Officer. Deck started his career with the US Department of Treasury serving as a bank regulator, where he traveled the country conducting bank examinations to ensure the safety and soundness of financial institutions. Deck then joined OlyFed in 2011 as VP of Risk and Compliance Management.
"When my wife and I wanted to start a family and put down roots, I realized I needed a job that didn't have me traveling each week and I wanted to use my skills by working with a community bank that shared my values. The South Sound was home and OlyFed was the perfect match," said Deck. Attending Franklin Pierce High School in Pierce County, Deck was a standout baseball player who went on to pitch in college at William Penn University. Now, he enjoys golfing and coaching his own young sons' teams in basketball, t-ball, and baseball in the local community where he lives and works.
According to Deck, "OlyFed has been a stable component of Olympia for over 115 years, investing in the same place our customers are invested. We strive to demonstrate our dedication to our community through volunteerism and philanthropic giving. We want to grow with our community and to continually
help improve our local quality of life."
As part of their guiding values, OlyFed is committed to lifelong learning and promoting a different kind of business model that uses their resources to serve the needs of Thurston and Mason County.
For Additional Information
Olympia Federal
360.754.3400 or 800.865.3470
olyfed.com
BY LYNN CASTLE