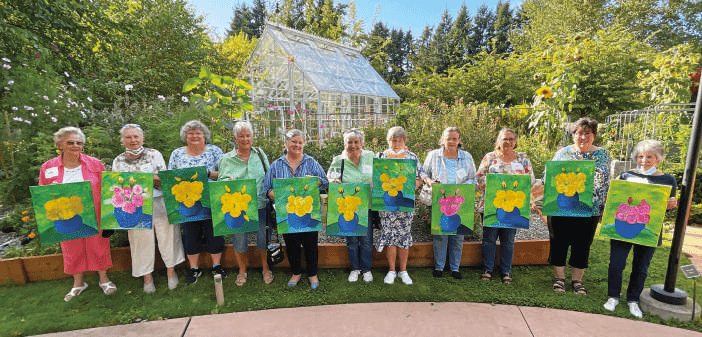 Changing your name for any reason is a big deal. For eliseo, the community formerly known as Tacoma Lutheran Retirement Community, the name change was monumental. After serving local seniors for more than 80 years, a name change signified the beginning of an inspiring and dramatic organizational transformation.
In conjunction with a major community expansion, eliseo in June 2021 introduced a new contract, making it a true "Life Plan Community." This is a tremendous step for eliseo as an organization and an amazing opportunity for anyone considering the move to a retirement community where the security of care is all on one campus.
Kevin McFeely, eliseo President and CEO, emphasizes how important inclusion and diversity are to eliseo's overall mission, "Engaging lives through active living, compassion and dignity." Kevin went on to explain, "In my first five years serving as this community's CEO, not a week went by that I wasn't asked if a person has to be affiliated with the Lutheran Church to move here. My response without exception was, "We welcome everyone!" When the decision to move forward with a revolutionizing, 91-unit, independent living expansion and new contract offering was announced in 2019, a name change and rebranding felt like a natural first step for this well-established and beloved organization's path forward.
Every element of the brand has meaning. "You would probably be surprised to learn just how much work and consideration goes into an effort like this," says Kelly Sizemore, eliseo's account manager at LevLane, the advertising agency tasked with the exciting challenge of bringing this brand transformation to life. Honoring a strong, faith-based foundation remained a priority throughout the renaming and branding process. Literally translated, eliseo means, "God is my salvation" in Hebrew. From the unique logo and vivid color scheme to the copy used for the website and advertising, every detail is meant to simultaneously represent eliseo's rich history and bright future.
After an exceptionally trying two years for the senior living and health care industries, the team at eliseo is proud of their success and ability to focus on the future while continuing to provide care for current residents and their families. eliseo has a bright future and looks forward to serving seniors in Tacoma and beyond for generations to come.
For Additional Information
eliseo Senior Living Community
elieso.org
ANGELA BYRGE