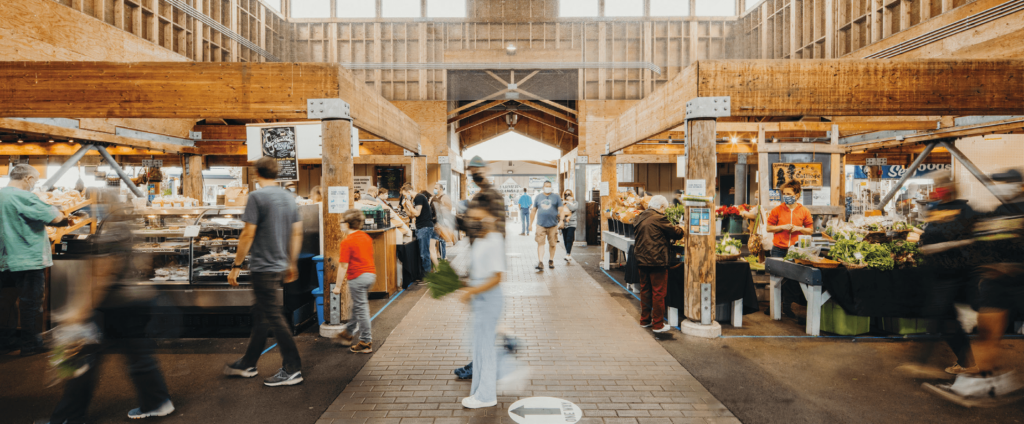 Shopping at the Olympia Farmers Market can be a great way to get to know your community while supporting your local economy. Open year-round with three distinct operating seasons, it's a great addition to your weekly shopping routine. The market is open Thursday to Sunday, April through October for High Season, Saturday and Sunday in November and December for Holiday Season, and every Saturday in January through March for Winter Season, always 10am to 3pm.
Founded in 1975, the Market has been in its current location at the top of Capitol Way in downtown Olympia since 1996. With four dedicated full-time employees and a volunteer board of directors comprised of vendors, they are committed to their mission "to promote and encourage the development of local, small-scale agriculture and ensure a dynamic market balance for small, local growers and others to make available their products to residents of this community."
The open-air, barn-inspired building provides protection from the weather and space for over 100 unique small businesses from the South Sound region to connect directly with customers in the community. Visitors to the market will find fruit and produce, artisan foods, wine, plant starts, cut flowers, pasture-raised meats, dairy, baked goods, seafood, jams and preserves, confections, handcrafted gifts including jewelry, woodworking, textiles, ceramics, glasswork, photography, local art and more. Free daily live entertainment can be enjoyed at the Market main stage with ample seating and space to enjoy delicious foods from the eight restaurants. The Market also has over 200 free two-hour parking stalls, accessible restroom facilities, and three ATM's for customer convenience.
The Market accepts new farmer and food processor applications year-round and new crafter applications annually from December 1-31.
Olympia Farmers Market
olympiafarmersmarket.com