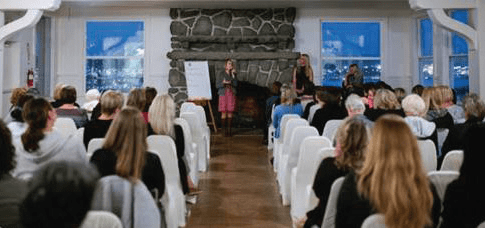 Finding ways to serve those in need and to help ease worldly problems can be tougher than one might think. Outside of simple acts of service that we can all do daily, many people find that larger, more substantial ways to contribute are often met with obstacles, such as a lack of time due to busy schedules, and confusion or ignorance on which organizations are legitimate for volunteer work or donations. These barriers are the reason why South Sound 100 Women exists.
Each year, this group of women from the South Sound help numerous small, local non-profits through large, organized monetary donations. The way it works is all 100 members get together every three months for an event where they discuss and vote on a non-profit to whom they will each give $100. By the end of the event, a $10,000 check is made out to the popular vote. South Sound 100 Women is designed to make it easier to give to one's community and encourages women that want to step up and make an impact. A cool component of this organization is that every member is allotted time to introduce and talk about the non-profit they want to be sponsored, at every meeting. According to Rachel Young, the organization's Marketing Manager, these events are, above all, an educational, fulfilling and inspiring thing to take part in and a great opportunity to network.
"We learn about some organizations we would never know about otherwise," said Rachel, "because [these small non-profits] don't usually have the marketing or the budget for it."
A quick glance at their website shows the multitude of non-profits this group of women has helped over the years. If you've ever heard of Hope Vision, an organization that provides resources for those with low-vision challenges, they are now thriving, in part because of the funding South Sound 100 Women provided. The grant Hope Vision received got a great idea off the ground and moving.
It's clear that South Sound 100 Women makes a big difference in their local community, but unfortunately the pandemic caused the organization to lose some members, dipping them under the minimum 100 needed women. Their goal is to not only refill those empty seats, but to grow their membership above and beyond. Rachel emphasized, "There is no limit to the number of women we want to join us. We would love to name ourselves South Sound 500 Women!"
The group invites visitors to come to their scheduled events, but one must be a member to donate and participate in the voting process. They urge anyone to come and check them out, as they pride themselves on being a special group deeply committed to impacting their community. If you are interested in joining South Sound Women, visit their website today. They'd love to have you.
For Additional Information
southsound100women.com
NATALIE BENSON