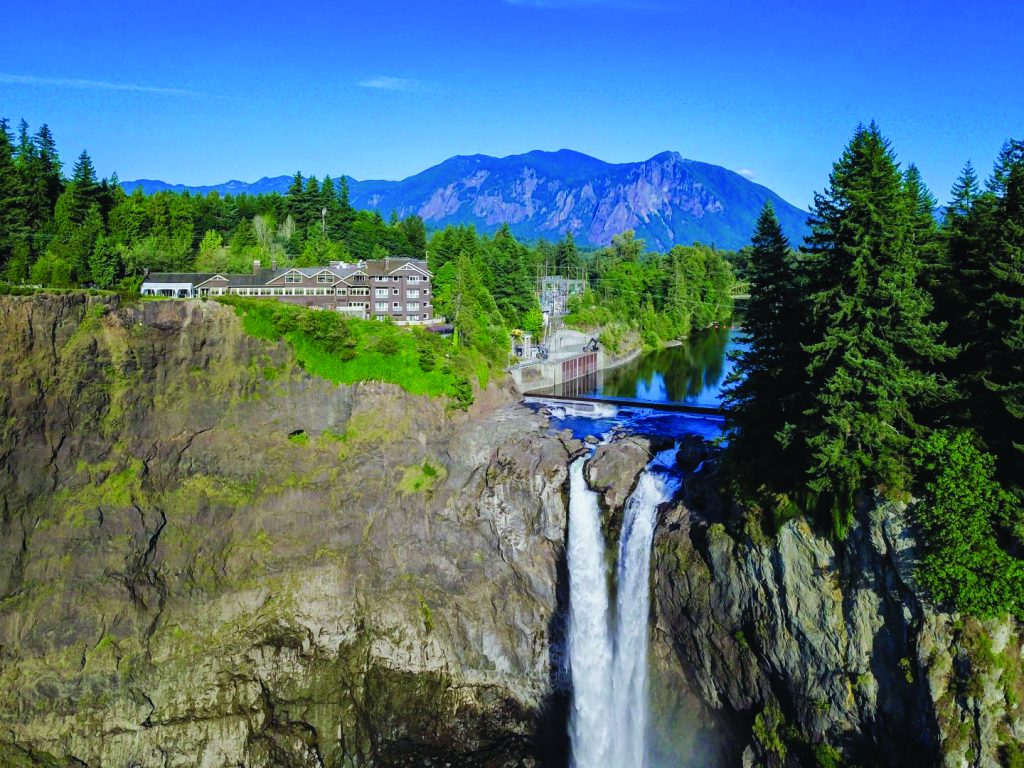 Nestled in a naturally beautiful and dramatic location and often recognized as the iconic "Great Northern Hotel" in the cult classic Twin Peaks, Salish Lodge & Spa is perched on top of Snoqualmie Falls in the foothills of the Cascade Mountains. This tranquil getaway, originally the 1916 Snoqualmie Falls Lodge, is the ideal escape for couples, girls' trips, or even a solo staycation. Salish Lodge offers an intimate escape in thoughtfully appointed guestrooms with fireplaces and a huge soaking tub or spa-like shower – sweeping views included. For additional mountain luxury, guests don't need to leave the lodge – Salish offers an award-winning spa and dining as well.

The Dining Room is a luxurious yet comfortable space beloved by guests and locals alike, featuring award-winning food and wine alongside one of the best views in the Seattle region. Offering sweeping views from their indoor and outdoor seating areas, The Dining Room sets the stage for an unforgettable seasonal dining experience. For those looking to sip a cocktail or grab a quick appetizer, The Lounge at the Attic offers all of that plus Salish's signature views in a cozy atmosphere.
Adding to the appeal of Salish Lodge's dining, they are proud to have their own apiary, which produces honey that guests will find on every menu alongside Salish Lodge's own homegrown herbs. Guests can look for the Salish bee icon around the property to guide them to items featuring the unique honey, including honey-infused Pacific Northwest cuisine in The Dining Room or honey-based treatments in The Spa.
Sweet treats created with unique artisan honey are around every corner, such as their Pike Hive Five Hopped Honey Ale produced by The Pike Brewing Company, Salish Honey Truffles, and much more. Salish Lodge is famous for their delicious four-course Country Breakfast with Honey from Heaven™ service, where honey from their own hives is poured from high above your plate onto buttery housemade biscuits—a Salish Lodge tradition that keeps visitors coming back year after year.
For those more interested in pampering than feasting, The Spa at Salish Lodge offers a variety of treatments using Pacific Northwest ingredients, including massage and body therapies, all aided by expert practitioners. Their natural surroundings reflect the calm, contemplative environment of the Pacific Northwest, featuring private soaking pools and the soothing aromas of cedar and eucalyptus. Their boutique retail store offers high-end skincare products and retail lines including Éminence, the popular organic skincare line Salish Spa utilizes in their facials. The Spa at Salish Lodge has won numerous awards and honors, including Condé Nast Traveler's "Top 50 Hotel Spas in the United States."
Salish Lodge & Spa is the ultimate Pacific Northwest getaway any time of year — the perfect place to create an incredible romantic getaway or to relax after spending the day hiking the local trails. Their team is always ready to
welcome loyal guests or newcomers to their memorable escape from the everyday.
For Additional Information
salishlodge.com
LEAH GROUT