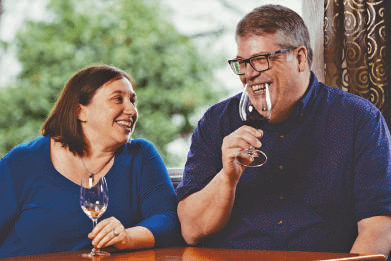 Locals return over and over to Swing Café and Wine Bar, where the attractions are many. Summer
enhances your visit. "We invest money into the patio every year," says owner Nicole Butigan, adding,
"The entire patio is so cheery and pretty." She starts plants and flowers from home and transplants
them at the restaurant. The large exterior seating area has removable windowed panels to protect diners from blustery evenings or unexpected precipitation. More outside areas are set around the edge of the property that overlooks an epic panorama of the Olympic Mountains rising from the distant edges of Budd Bay. Capitol Lake stretches out below, and diners can see the hum of the downtown's activities.
The scenery offers a magnificent backdrop for selecting one of the intriguing cocktails, all named after favorite songs. The rosemary in the Smoke Gets in your Eyes cocktail comes from the garden. If you would rather have a glass of wine, Swing has 30 or so bottles of wine available for a pour. When you are wavering on your selection, consider a flight which gives you three different wines in two-ounce servings. Read through the ten flight options ranging from French bubbles to noteworthy reds. There's even a dessert trio.
Swing's food menu won't take too long to read, but the plethora of possible flavors and combinations can make it hard to narrow down. That is simply another reason for a return visit. Have fun sharing everything, even the appetizers and small plates. The fire-roasted pepper salad shines with lemon-infused ricotta and mint. Peppers, cucumbers, and walnuts create a symphony of tastes and textures.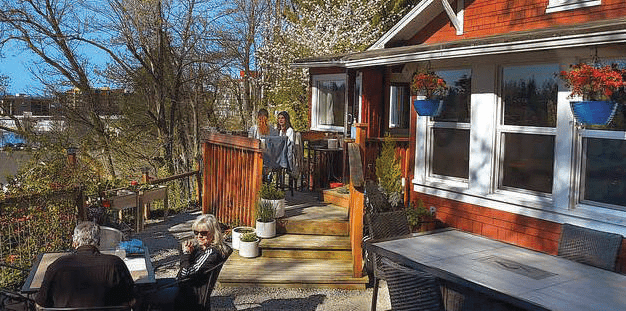 The asiago and rosemary fondue pairs well with friends and a drink. Slow-roasted beef brisket is always popular (perfectly tender) but there is also rack of lamb, salmon, chicken and a few more choices. End your meal with the chocolate fondue, a dark chocolate ganache, fresh fruit, and housemade cookies.
Life doesn't seem to slow down, but you can sip and savor an evening at Swing. Linger at one of the fire tables and watch the stars come out. The Wine Cellar downstairs makes an intimate space for your private event. Call or make reservations online.
For Additional Information
Swing Café and Wine Bar
825 Columbia St SW, Olympia
swingwinebar.com
MARY ELLEN PSALTIS