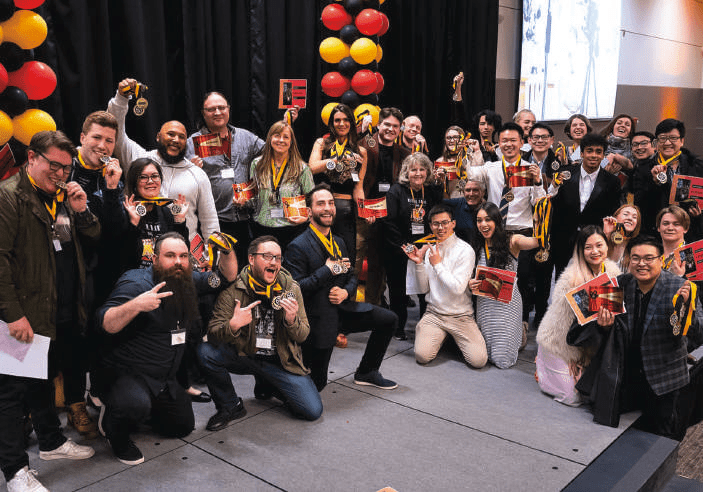 During a gala and screening event held on Saturday, March 19 at the McGavick Conference Center in Lakewood, winners of the first annual Lakewood Film Festival were announced. Reel Life 96 was a fun, short film competition for filmmakers of all ages and experience levels.
Participants wrote, shot, and edited five-minute films in just 96 hours.
A number of films were selected to honor the recently celebrated 25th anniversary of the City of Lakewood in 1996. The event kicked off on February 10 at 5pm when 38 entrants received their starting email that contained the three elements every film would need to incorporate into their story. The story had to show a dance (action), a lit candle (prop) and a line of dialogue "sometimes you have to be happy for what you don't get."
Following the screening of each film throughout the six-hour festival, an awards ceremony recognized thirteen award categories and eleven different teams of filmmakers. Categories ranged from Best Use of Elements (Blind Duet by Oly Film) to Best Actor (Kevin Leung for Reverse by Empower Films) and Best Actress (Sheila Luong for Reverse, also by Empower Films). Reverse continued the sweep by being selected for the Audience Choice Award.
Linda McDermott, Director of Reel Life 96 and Chair of the Lakewood Arts Commission, recently laid out the reasons for the festival this way.
"The thing about Reel Life 96 is that it is not just a great community event that brings people together from different backgrounds and experiences to tell their stories, it is the place where some filmmakers will find their inspiration to begin a lifelong career in filmmaking, that may one day propel them to the heights of their profession. Everyone gets their start somewhere in life and we would like to do our part to grow independent filmmaking in the South Sound. Films have the ability to inspire us, to connect us with characters outside our own experience, to make us laugh and to make us cry; Reel Life 96 is where audiences and filmmakers meet to share the joy of film."
Reel Life 96 was made possible through the generous support of Twin Star Credit Union, the Lakewood Community Foundation Fund, and NWEtch.
For Additional Information
Reel Life 96
cityoflakewood.us/film96
LYNN CASTLE