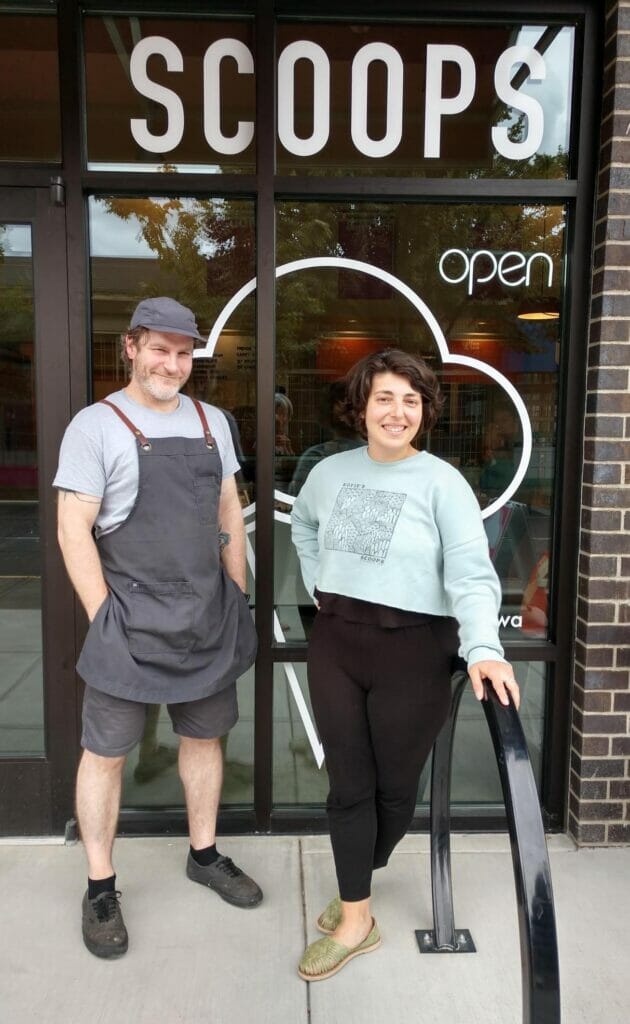 Any day is a good day for Sophie's Scoops. There are so many reasons why Sophie's hyper-local gelato is a taste sensation. Each small batch is lovingly made with ingredients sourced from the community. Owners Sophie Landis and Chris Proctor unite their culinary and business skills with great attention to detail and a whole lotta love.
"We make everything," they both say. Sophie's Scoops pasteurizes the milk which gives incredible freedom to make its own gelato base and flavors. TUNaWerth Creamery in Tenino supplies the milk. "Our gelato is farm fresh," emphasizes Sophie. Other ingredients are sourced from nearby farms such as Johnson Berry Farm. Cookies are made by the Bread Peddler and coffee comes from Olympia Coffee.
The new storefront, with significantly more space than the original location, gives Sophie's Scoops an expanded operational kitchen. It's where Chef Chris gets to do gelato magic. With years in the restaurant business, he appreciates the creativity that goes into each batch. With in-house pasteurizing, it's possible to use small quantities of seasonal ingredients for a unique blend. A friend's garden supplied mint which became Free-Range Mint. Naming gelato is almost as much fun as eating it.
Two customers were seated inside savoring their cups of gelato. One was temporarily lost in a memory of the recently made Key Lime Pride, featuring Sophie's lime curd and graham cracker crumbs topped with a vanilla whip. It was zingy, tangy, and wonderfully balanced. "You can get order envy," one says. That's when you wish you ordered what your friend got after you taste it. Don't worry. You can always take a container home for later.
Sophie's Scoops has its own truck for mobility as well as use at special events. There are also two bikes complete with umbrellas. Sophie had fun using the bike at Oly Fed's golf tournaments and uses it for other outside activities. "It's fun to interact with people," says Sophie.
Sophie and Chris invite you to visit their new digs. You can also order a coffee drink and check out the fun t-shirts and reusable totes. Sophie's Scoops is truly a community business. Scoop a little deliciousness into your life.
Get more details on the Sophie's Scoops Facebook page. .facebook.com/sofiesscoopsgelato
Sophie's Scoops
510 State Street
222 Market Street
Mary Ellen Psaltis