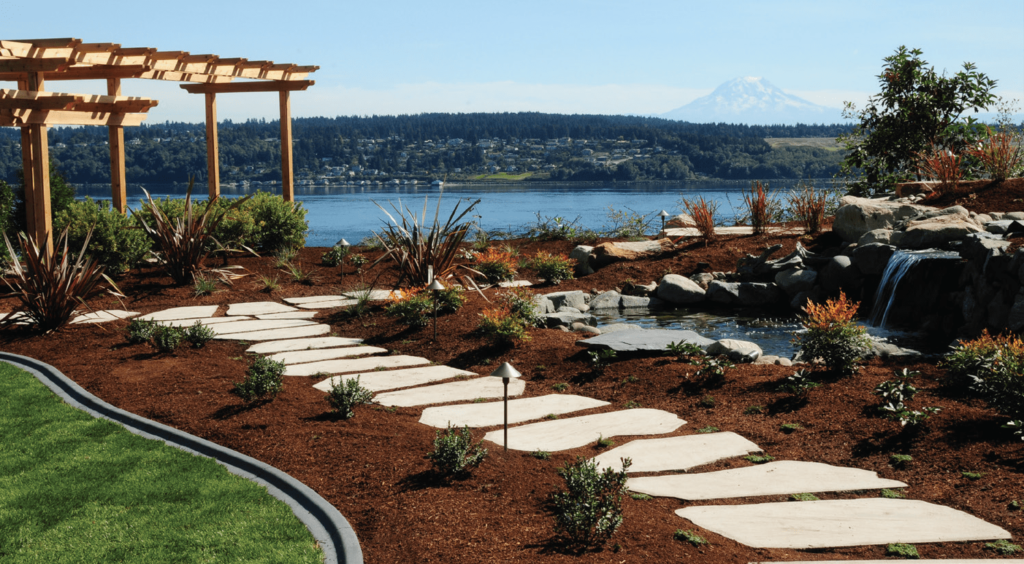 Olympic Landscape has been designing, building and servicing outdoor residential and commercial spaces in the South Sound for more than 40 years. As an expert landscape contractor, the company creates beautiful outdoor living spaces, unique gathering spaces, and specially-themed gardens for homes and businesses. The owner and CEO, Joe Areyano, plans to continue that legacy. He also added new services and products that will carry Olympic forward for at least another 40 years.
"My family started a landscape company in 1980, so I've been around the industry for the majority of my life," says Areyano. "At age 16, I started learning every division of the company, from landscape retaining walls to irrigation." After about five years, he was promoted to field manager and continued to work his way into greater responsibilities. He's now a certified landscape professional. This hands-on experience, he says, helps him ensure that customers receive the highest-quality service.
Since Areyano purchased Olympic Landscape from founder Neil Hedman, he has expanded the business. The company is growing into a regional leader, expanding its service area and the core services it offers. As a great landscape construction install company, Olympic offers both landscape design/build and landscape straight to construction. They now offer commercial maintenance and can accommodate snow and ice removal projects too. This is good news for local businesses and homeowners who need these services.
The growth of Olympic Landscape is good news for the larger community as the company increased the number of employees to about 57 in 2019. Additionally, Olympic supports local charities and non-profit events such as St. Francis House, which eases the hardships of those in need in east Pierce County. They also support the Emergency Food Network that supplies 3.9 million pounds of healthy, nutritious food annually to 76 food pantries, meal sites and shelters for distribution to families and individuals in need. Olympic partners with Adorned in Grace, a bridal boutique that uses its profit to teach and train individuals rescued from human trafficking. The company is particularly proud to support our neighbors and give back to complete the community circle.
Olympic Landscape
olympiclandscape.com
BY JULIE LEYDELMEYER